Product description
Save a life, and share a smile!
50% of people who see a smile will return it.
We want to spread as many smiles as possible and help those that may need an extra one. Make a difference, spread smiles, and save lives, while adding a cozy pair of slippers to your collection!
Spark conversation and raise awareness to help save others

20% of all proceeds will be donated to The International Association for Suicide Prevention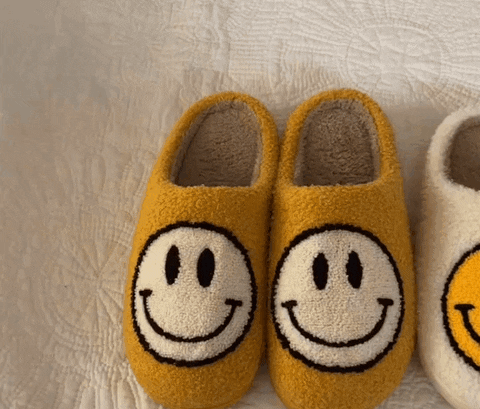 Why do you NEED these slippers?
We can all agree that everyone needs to smile more.
Whenever you wear these slippers you feel the love! We guarantee that your friend or your pet will compliment you on your slippers or your money back.
Not only do these slippers make others smile, but they will put a smile on your face while they keep your feet comfy!
These slippers are perfect for everyday use and will keep your feet warm and cozy. They are made with soft, fuzzy material and feature a cute design to bring a little extra joy to your day.
How do they help others?
For every pair of slippers sold, we are donating 20% of the proceeds to mental health and suicide prevention programs. We have chosen the best charity in the world to guarantee your purchase makes a difference!

This is what you'll get:
1x pair of Fuzzy Smile Slippers
1x Thank you/Information Card
1x Custom Packaging
These slippers symbolize kindness, love, and happiness. Standing true to their meaning, these slippers are meant to show off your true colors and make you or someone else's day better.
Support a great cause. Stay warm and cozy. Look and feel better than ever!